Un diplôme universitaire dans le domaine des TI ou des télécommunications ou une expérience de travail dans un poste similaire n'est pas requis. Nous sommes prêts à partager toutes nos connaissances avec vous. Account Manager sera responsable du développement de relations commerciales à long terme entre Unifun et les opérateurs mobiles de différents pays.
Responsabilités
Sous la supervision de Senior AM:
–

Communication avec les Top managers aussi que les cadres intermédiaires via Email, Skype, Téléphone, Viber, WhatsApp, etc.

–

Participation à la préparation de la documentation commerciale: propositions commerciales, prévisions de revenus, contrats, etc.

–

Suivi de l' efficacité opérationnelle des projets lancés
Recherche de nouvelles opportunités commerciales pour le lancement des produits supplémentaires de l' Unifun dans les opérateurs assignés

Recherche de partenaires et de clients potentiels via les sites Web et les médias sociaux

Fourniture de rapports sur les ventes périodiques et les évaluations de rendement
Exigences
Diplôme universitaire dans n'importe quel domaine

Langues: anglais / français et russe (écrit et oral – compétence professionnelle avancée)

Connaissance de l'informatique (Microsoft: Word, Excel)

Expérience dans les ventes et la correspondance d'affaires – sera un avantage
Compétences indispensables
Attention maximale aux détails et à la réflexion analytique

Orientation sur la recherche d'informations complémentaires de manière indépendante

Capacité d'organiser la charge de travail en assumant l'entière responsabilité des activités realisées

Capacité à fournir clairement et rapidement les informations requises

Être amical et communicatif
Pourquoi avoir choisi Unifun. Avantages de rejoindre notre équipe
Unlimited opportunities for fast career growth and professional development

Milieu de travail dynamique et amical, manque de bureaucratie qui rend la réalisation des activités plus faciles

Une équipe internationale de professionnels, ouverts à partager leurs connaissances et les bonnes pratiques avec vous

Formation professionnelle, cours d'informatique et d'anglais
Attentes salariales
Niveau de salaire d'une entreprise internationale TI, révision tous les 6 mois

Bonus financiers des projets vendus et lancés

Basé sur l'expérience professionnelle – tout niveau de salaire peut être discuté
Conditions de travail
Lieu de travail parfait dans un nouveau bureau (classe A) vis-a-vis du centre commercial Jumbo

Machine à café, fruits, collations, bonbons autant que vous pouvez manger, fêtes d'entreprise régulières

Horaire: du lundi au vendredi, à temps plein
Apply Now
We analyze and reply to all received CV without any exceptions
Any questions about the job?
Just call +373 79 200 693 and ask
Our career guide Galina will help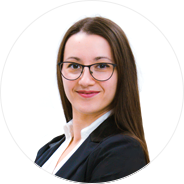 Galina Moroz
HR Manager